I went and did it.

I sent the email to my housing company letting them know I will be moving out of Tomioka (aka "the sticks") on the 31st of October.

Including today, that will give them the 45 days notice and minimum 5 months and partial month (I moved in the 31st May), I am obligated to stay.

They may on a technicality say that it is only 44 days and insist that I stay an additional day maybe.

Plan A is to move in with the gf. This actually scares me a lot but it will save a lot of money for the both of us. I have never lived with a girlfriend before so it will be very interesting to see how that goes.

Plan B is to find my own place. I can still save about an extra $300 a month if I can find a single 1K apartment. Landlords are known NOT to be gaijin friendly and the combination of guarantor/2 year lease and key money puts me off this idea a lot.

Plan C is if I can't do either of the above I'll move into a gaijin house. These are basically rental houses specifically for foreigners, like a hostel but with separate private rooms. The rent would be similar to what I am giving up though.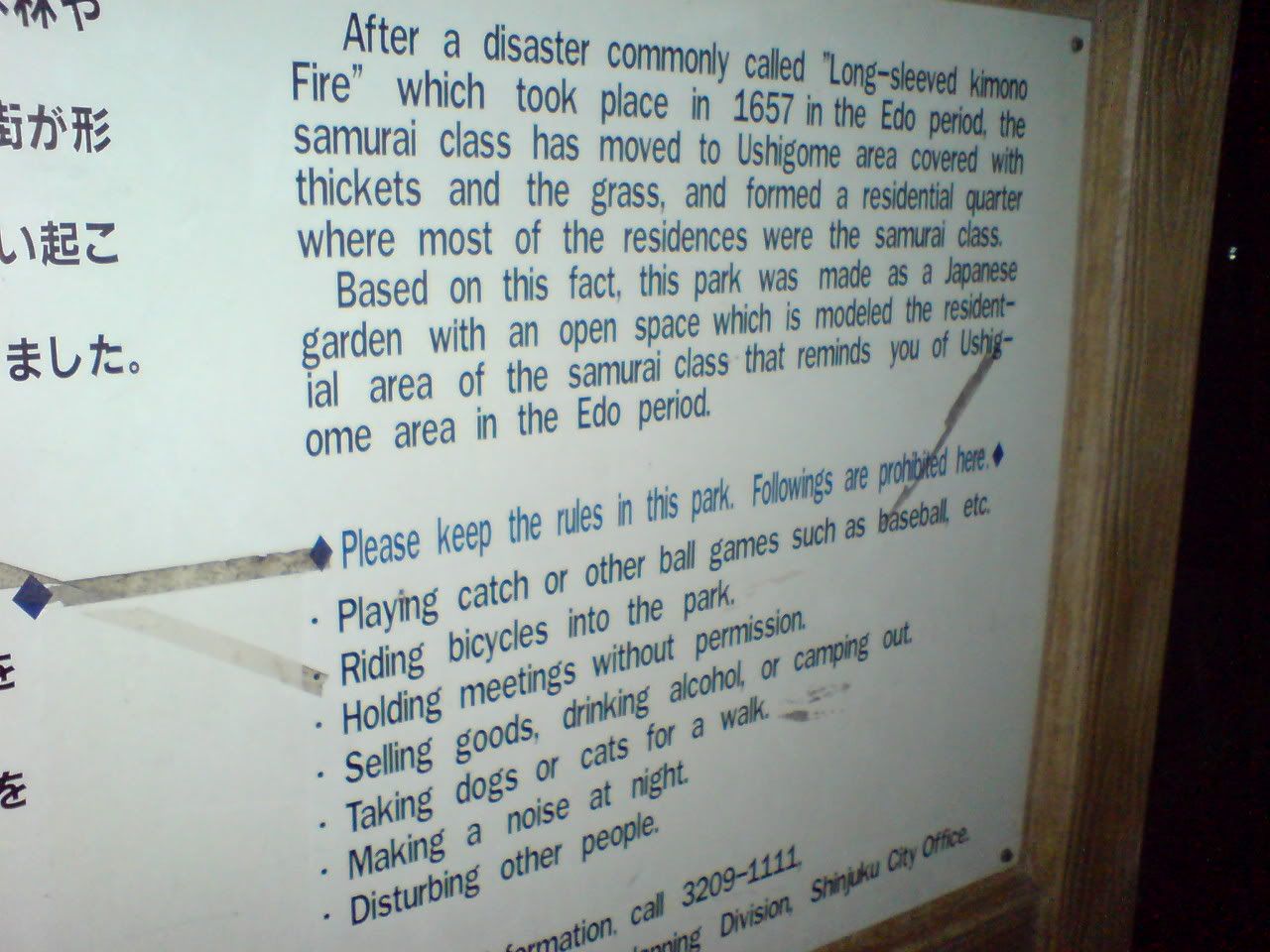 Plan D was this park option until I read the "no camping" on this sign.

After sleeping most of the day, we went to Nakau, a japanese fast food place similar to Yoshinoya. I had some Korean BBQ beef and rice. Much better than Macca's, that's for sure.

We walked through Kagurazaka, a nice avenue of lit-up shops and restaurants near Iidabashi. This would be a nice place to live but expensive.


We went to Saryo, a sweets restaurant and had cakes, coffee and green tea.

Today we also booked the plane ticket and accomodation for next weekend in Hiroshima and Miyajima. My first trip outside Tokyo/Yokohama! Thank you Autumnal Equinox substitute holiday!