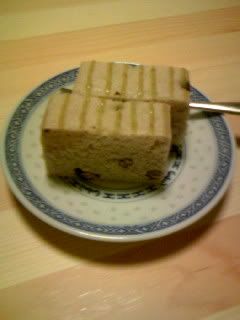 Gf insists that I say this. She gave me some delicious Sawoshika, an azuki cake. You can't really taste the azuki, but it was good.

Today we went to Harajuku and Shinjuku.

Gf said that last time we were there we only looked around the Meiji-jingu and Yoyogi Park area.

She wanted to show me the other side where there are a lot of trendy (and weird) shops, as well as the Ukiyo-e Ota Memorial Museum of Art.

As soon as we got out of the station we walked to the area where the japanese like to pose in their weird outfits.

There wasn't that many to look at this time either. There was a weird "performance artist" (I use that term VERY loosely), dancing strange and singing along with U2's "Vertigo", attracting the tourist's cameras.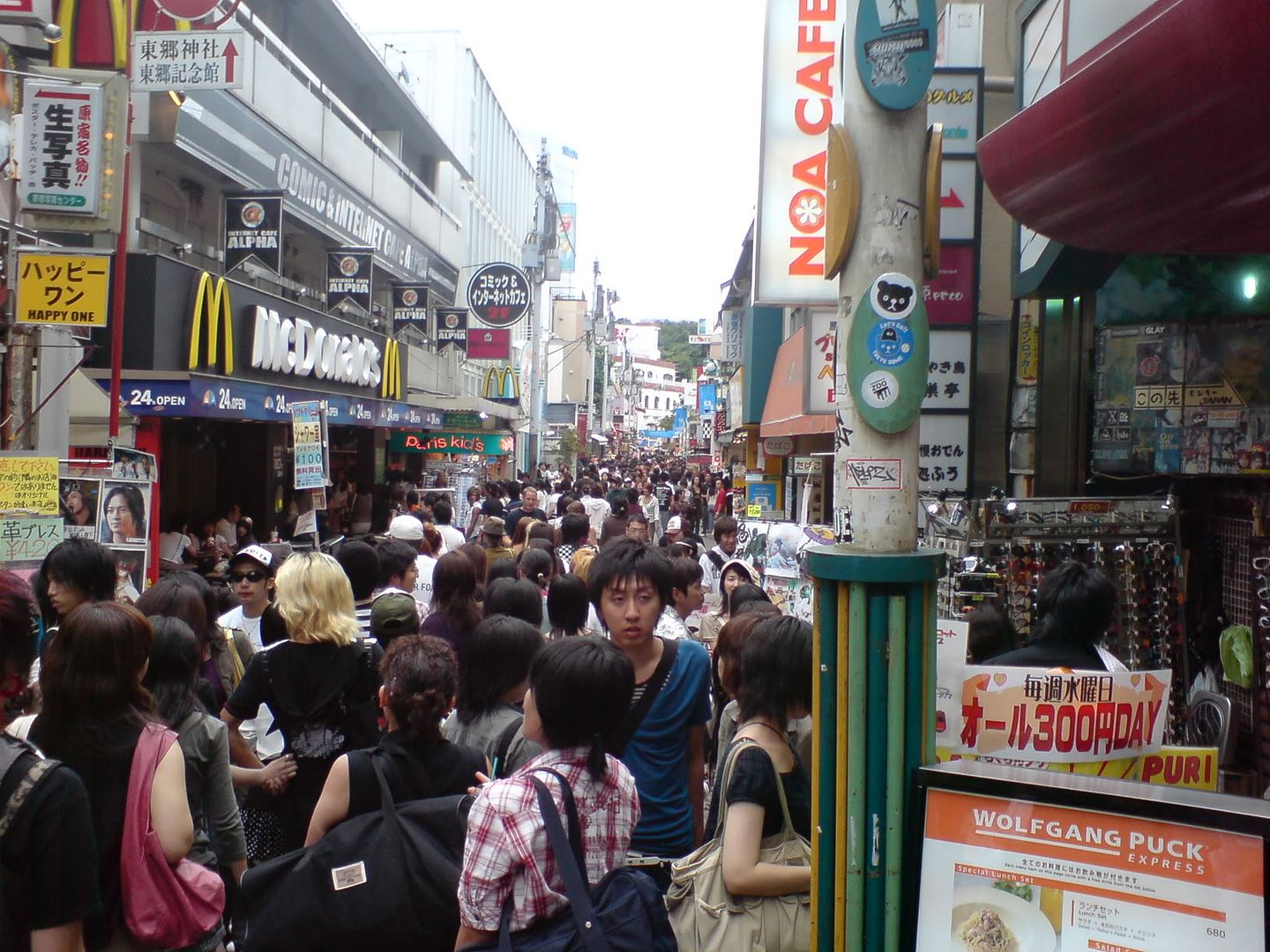 We then made our way down Takeshita Street (yes, that name makes me giggle too). We got some free iced coffees from the Maccas you see on the left. The street was packed with people.

The museum, (700 yen, and not covered by the GRUTT pass) was small but pretty interesting. We looked at the works of Hokusai, Hiroshige, and Toyokuni Ⅲ. The most famous probably being the "36 views of Mt Fuji" by Hokusai.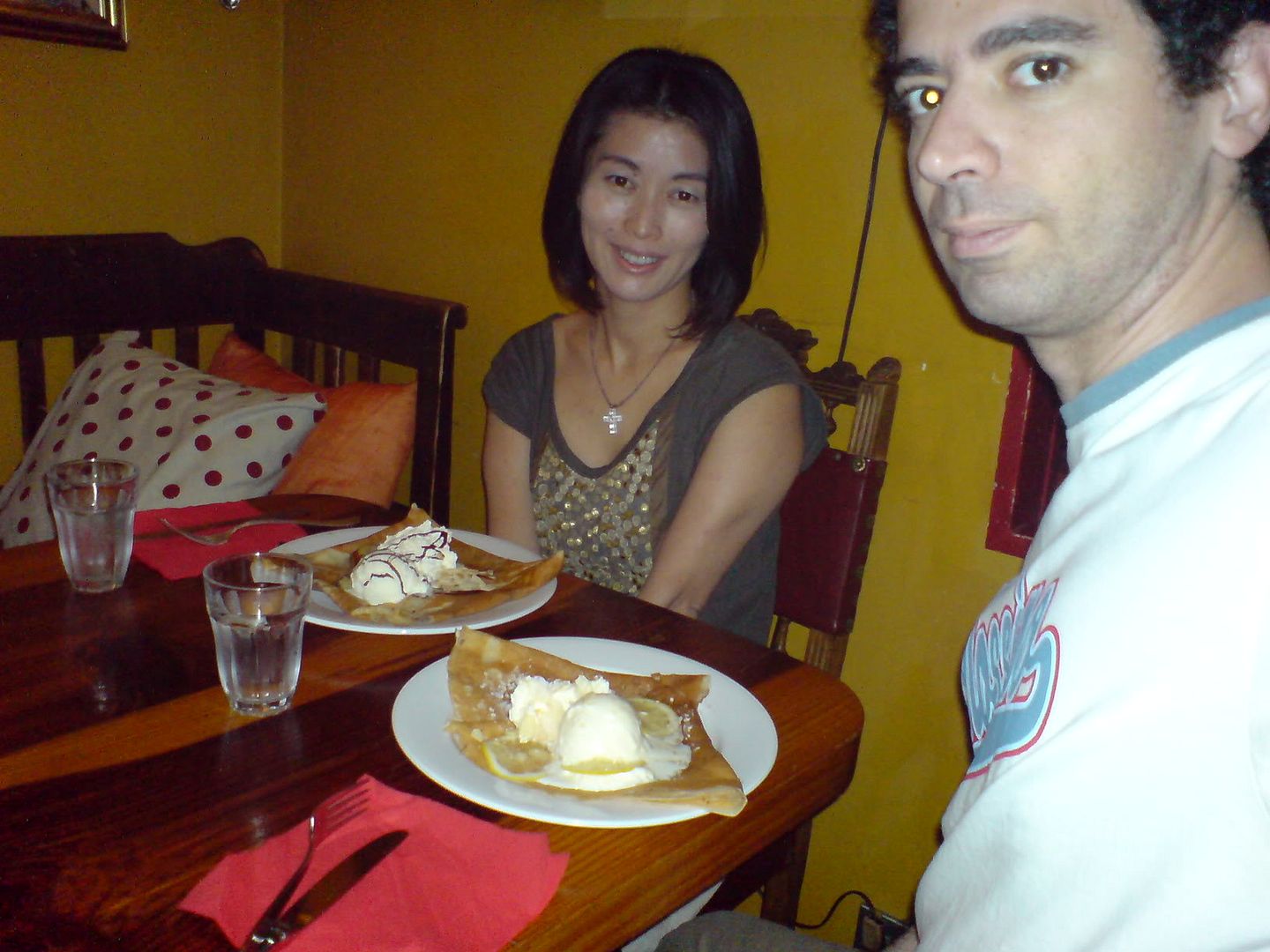 After that we went to La Fée Délice, a french crêpe restaurant. I had vanilla and lemon, and gf had a chocolate and banana crêpe. Probably a little expensive (950 yen), but it kept us from being hungry for a while.

Walking back to the station I noticed at the KDDI Designing studio, signs saying "free internet" so we hopped online for a few minutes, surprised that I had access to my email. (The Sony Building internet access is restricted).

The gf was a bit annoyed that I wanted to go back up Takeshita-dori to look for a small umbrella and a t-shirt I saw.

We caught the next Yamanote line train to Shinjuku. We looked at a few clothing shops that made gf much happier. So much so, she was happy for me to go to the UFO catcher arcades. It's a good thing she did. This turned out to be my lucky night.


We saw a catcher with penguins. The gf handed me 500 yen pleading for me to win it for her. I actually thought I wouldn't be able to get it, but unbelieveably I got it first go (100 yen!).


We moved onto the next arcade and I saw a dog hovering over the shute so I asked gf if I should try for it. It was only 100 yen and she said yes, so yet again on my first try I got this as well!



At the NEXT arcade I finally found a Super Mario machine and had my mind set on a mushroom. There was another character there, so gf asked the staff if they put the mushroom in a better position. I won this first go too(200 yen). On the video my phone memory ran out, so unfortunately you can't see the toy drop but here's a pic to prove I got it (and the other toys).

One thing most people aren't aware of, is that if you ask the staff to move the toys, or put it in a better position they are happy to do it. They will even give you advice (in japanese though), how to best play to win it!

I was definitely on a roll. I almost wanted to keep going until I actually lost, but (wisely) I quit while I was ahead and walked home with a noticeable spring to my step.

On the way back I bought a small, black fold-up umbrella for 500 yen. For some reason he gave me a discount from 520 yen. Looks like my luck has yet to end.