On a Marine Day national holiday I should do something useful with myself. How about removing the links to resize my metal watch band?

Great fun!

At first I thought it might be more difficult than it looks. My watch band has a split pin configuration but the pins are straight and flush with the edge of the band.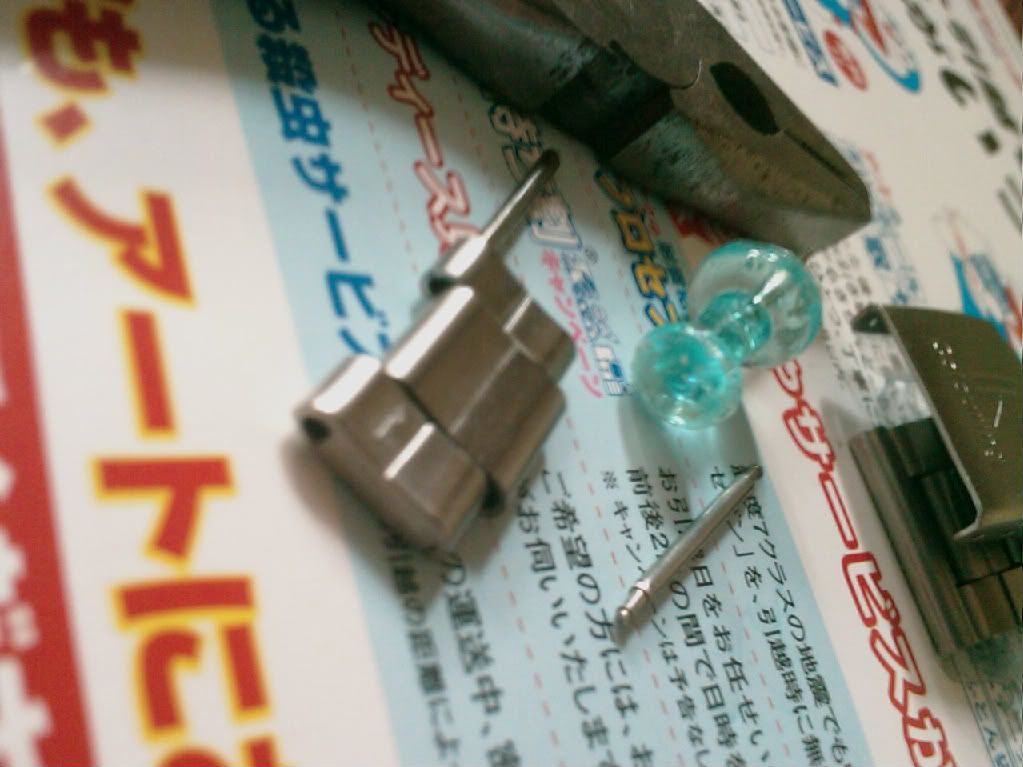 My tools for this delicate operation are :

1. pliers

2. blue-headed thumb tack

That's it!


First thing I did was remove the pin on the clasp to make it easier to access the links. It's optional though. I think I could've left it attached.

You have to be careful. These pins are spring-loaded and it shot out to the wall. Lucky for me it was easy to find. Make sure you don't hover your face to take a better look either. One of these aiming for your eye could be nasty.

The pins in this band weren't that easy to push out. Using the pliers as a hammer on the thumb tack I was able to punch the pin out slowly. You have to push the pins OUT in the same direction as the arrows on the underside of each link!

I used the edge of the table which wasn't a great idea. The gf isn't too impressed with the dents (albeit small ones) I made.

A better option I used later on was a phone book to absorb the hits. Once enough of the pin came through I yanked it out proper with the pliers. All in all I had to remove four links to fit my wrist.

Putting it back together was just the reverse of what I did. I put the pins IN the opposite direction of the arrows this time. Sometimes I pushed the pin in from underneath with the phone directory, or with some extra hammering with the pliers so the pin was again flush smooth with the edge of the band.

For a first attempt I think I did really good. I looked at a few other sites to do the procedure including this one to make sure I didn't mess it up.

It feels good to fix things with my own two hands. "Look Ma, I can fix stuff!"

She's gonna be real proud of me now. It wasn't a total waste of a national holiday after all.