This is just a time-out to show a few amusing pictures I took this week.

As usual I didn't have my SLR with me so the quality is so-so from my iPhone.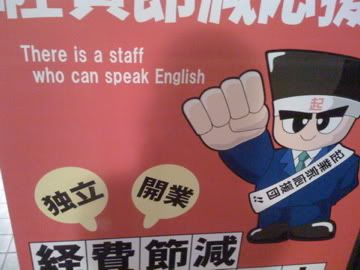 This is an office supplies shop not so far from the apartment here in Yotsuya.

I wish more places had "a" staff that spoke English. It would definitely give me less of a headache. Maybe I should learn me some Japanese.

I know...


Even printing a few photos out from the many photo booths in Bic or Yodobashi Camera can provide moments of mirth.

"Note a forgetting of prints to take".

Classic.


This one is just disturbing.

This week we put station beers on hold to go to a cheap 300 yen izakaya for some beer and light food.

In the bathroom there was this figure above the toliet.

It is clearly a male torso, and the last thing I want to see while I'm doing my "business".