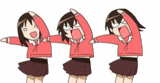 It won't be long before I am going overseas. Today, just about everyone knows that I am going. News gets around so damn quickly in this place. They said that I have to quit work here but my job is safe when I come back.

One person said I was going because I wanted to pick up a lot of Japanese girls. Well I'd be lying if this wasn't one of the reasons, but having said that there are plenty of asian girls (Korean and Japanese) here so it would be a pretty crazy thing going for solely that reason.

I guess I need to do this to grow as a person and to me this adventure is a holiday and working rolled into one. Tonight we went to do lawn bowls. Exciting because the company are paying for food and drinks. I'm going to miss that.