It's good to be out and about every now and then. It keeps me sane. So, tonight after work, I joined a few of the others for dinner, mexican-style!

Location? Mike's Tex Mex Restaurant, Higashi Rinkan.

I could have went straight there from work in only about 20 minutes but that would've meant I'd be waiting around for about three hours. Not a great idea.

Instead I decided to go home and chill for a while before getting styled-up for a big night of enchiladas and tequila - sort of. Luckily the typhoon threatening Japan passed in the morning with only a little bit of rain.

From Yotsuya, it's more than a little bit far to go back there.

I caught my local into Shinjuku and then the Odakyu line to Sagami-Ono transferring to the Enoshima service to the next stop, Higashi Rinkan. It took around about an hour. All the while on the train I was thinking who's crazy idea was it to go to THIS restaurant in the middle of nowhere.

I haven't really done mexican before, but I have to say the food was really good! We took advantage of the "party menu" (4000 yen) which included all the food, draft beer and spirits. There was more than enough food and I couldn't manage to finish off my last beer (because of the trains of course).

For good measure, we all had a premium shot of tequila (1500 yen). After having my usual kind of tequila, this was really smooth. It went down like water. Dangerous.

By the end of the night I was totally full of mexican food and alcohol.

Surprisingly I didn't have too much trouble catching the train home. One of the girls was going in the same direction so it was nice to have one of them to chat with on the way back. She almost missed her stop, but I had to say "Isn't this your station?" Sometimes it's better just to shut one's mouth.

Getting back to Shinjuku station, I was more than a little disorientated as to which train to catch. For some reason I thought I had to catch a Yamanote train home. Ikebukuro or Shibuya direction?

Neither.

The smart way home was via the Chuo line which alcohol-guided, I got on finally.

My camera's pics didn't come out so good (everyone was two-headed from the blurring), so I give my thanks to BBD for his donated pics of me and those fine ladies.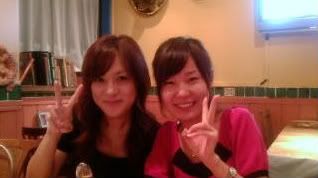 Looks like there may be another fun night coming up real soon. I can't wait. I had a blast.

T-t-t-tequila!