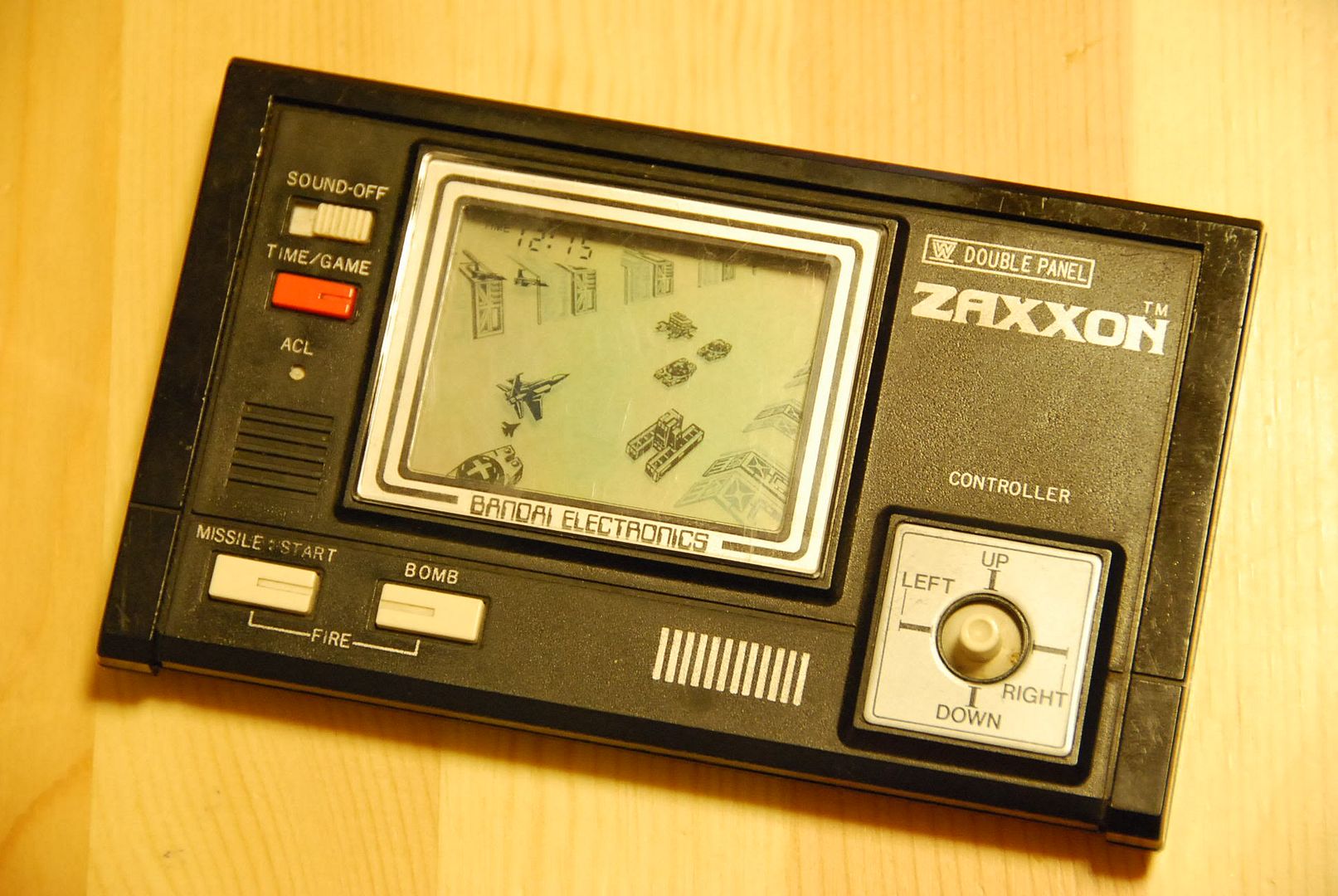 Ok, I can finally let you know what I bought from Yahoo Auctions. I'm sure it's a big surprise to tell you I got another video game.

What we have here is Bandai's version of Zaxxon.

If anyone remembers the original, it was a bitch to play because of the isometric, pseudo 3D view. This one's even more difficult because it's also in LCD black.

I guess I should thank Japan Post for actually delivering my mail this time. I guess it must've helped when I went into Shinjuku last week and registered a change of address from Tomioka.

I've heard stories of them not delivering mail because the name didn't match, even if it was just a middle name on the envelope and they just had it registered only first and surname!

Just remember if you move house here, let Japan Post know, or expect a lot of return to sender.

Anyway back to my review.

First impression out of the package was, "This looks kinda old".

Lately I've been spoilt by immaculate condition 80's games that are as pristine as they must have looked in 1982. While not as bad as some examples I've seen, this does have scratches on the screen as well as the back.

Not bad enough to effect play, but slightly disappointing. To be fair though, I paid a fraction of what a boxed, in great condition one would cost. What surprised me most was that this thing is pretty big compared to a Game & Watch that's for sure.

On the positive side, the controls work great and the LCDs are perfectly clear. All sound, although annoying, comes through loud and clear.

How is it to play?

Well, at first it felt like I was playing a game on a pocket calculator! Only one shot can be fired at once, so it's a little frustrating for it to actually hit something or fade away. Bombing does the same thing. You have to be on the ground level to fire them.

Having said that, after playing for bit longer now, I'm actually enjoying its quirks, and a space shooting game is a refreshing change from the usual, dare I say "samey" offerings of the other handhelds. An exemption, Neko Don Don, is my current fave.

What's truly impressive about this one is that there are two screens that gives a pretty amazing representation of a moving three dimensional environment. My favourite being the second "Death Star" canyon level. I didn't feel like posting a video. but you can see someone else playing it badly from here.

Now that I've tried Yahoo Auctions once successfully, I might have a new addiction on my hands.