I could tell you, but it would probably be five to ten minutes behind.

Maybe I spoke too soon, but my "fixed" watch is anything but fixed.

For some reason the second hand decides to have a little break every now and then, and the chronograph is all over the place. (I admit that it did fall from the couch to the floor, but I doubt that is a hard fall).

This is not a good thing.

It has the potential of a) making me late to get to my school and b), making me run classes over their scheduled finish time.

Yesterday I woke up early to go to the watch repairer again to see if it might just be something simple. Say, a bad battery or something.

They said that I had to reset the watch which they did, which "sort of" worked. I thought maybe that reset thing would also fix the time problem.

So, with not a lot of time to get to work, and not much small talk in japanese I left and hoped everything was ok.

It wasn't.

Today I brought my alarm clock and used it as a backup. I don't like the idea of using it. I think it makes the students too conscious that this is a timed class.

To cut a long story a little bit shorter. I rushed from work in Yokohama to Shibuya to get there before they closed.

This time they said they'd check it and for me to come back in, in a week. So crossing my fingers. For now, I'm going to have to bring Mickey out of retirement for a while.

While I was in Shibuya I wandered around.

First, I went to the Ishibashi music store. I tried out the black L6-S guitar. This one sounded as good as the other one I tried. I MUST have had a bad one.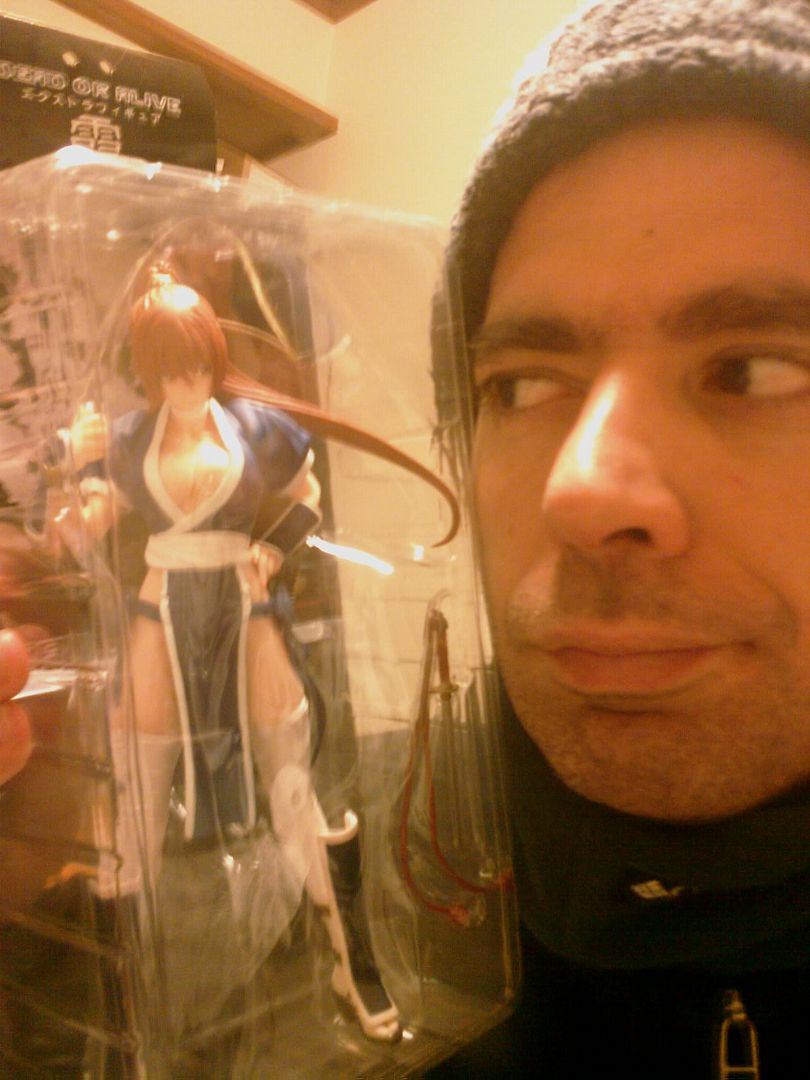 Moving on, I did go to the Adores UFO catcher here. They had a 100 yen per play. I couldn't resist and after too many tries, I got the blue "sister" of the other DOA doll that I already have.

Someone is going to need an intervention soon. This is possibly getting out of hand now. I'll stop.. er.. maybe.

I used another expired coffee coupon. With a Totoro smile, I was secretly hoping he wasn't going to turn it over and look at the date. He didn't.

A small american film crew with a video camera wanted to film me while I was using my wifi phone on the internet in the Shibuya street. I must of been in a good mood because I said yes.

I just hope footage of me is used for good, not evil.

I was hoping to find a Daiei supermarket or 100 yen shop to get some juice for my new shochu, but it somehow eluded me to where they were.

On the other side of the station (opposite side to Hachiko), I saw a long forgotten Taito. Yes, I went in and was tempted but I resisted.

I noticed earlier that I was over-charged for a trip from Shibuya to Yokohama.

I printed out the receipts and found they had in fact made me pay 240 yen extra. Lucky the train staff knew what I was talking about and gave me a refund without any problems.

A bit of a long day. Another bit of bad news is that the gf lost her phone in a taxi.

We're hoping that the reputation of japanese honesty brings it back home.