I'd thought she'd set her alarm early, but it was myself that made the mistake.

I accidently set my own alarm clock for 6pm instead of 6am. Lucky that. Today was going to be an interesting day.

Yesterday we finally finished the first Di Bella "Mocha and Caramel" coffee blend that my father brought here, what seems like aeons ago.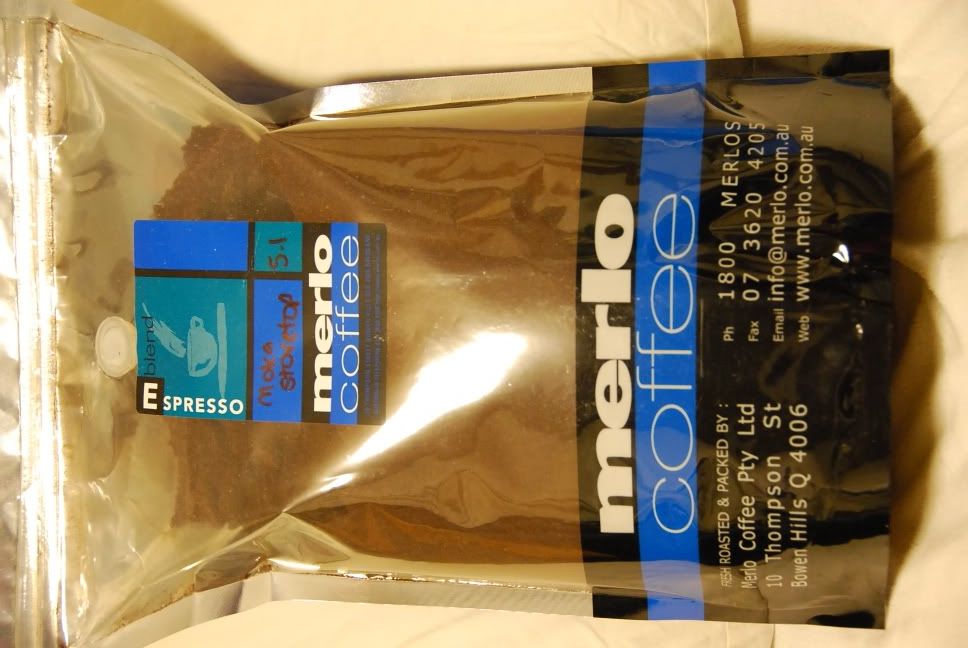 Now we can finally begin the Merlo Coffee that I brought back in the New Year. First thing tomorrow.

I missed out on my cuppa this morning. Instead I used another of Macca's free coffee coupons that I've managed to get my grubby mits on. They always look on the back now, punching some number into their sophisticated cash registers.

I'm sure they have a "Most Wanted" picture of me on their displays to check for overdue coupons. Foiled again!

After work I did the rounds of the camera stores to try to coerce the staff into giving me the best price for the 18-200mm lens I'm after.

I don't think salespeople here have heard of the concept of "making a sale".

Asking for a discount is akin to telling the person that you kissed their mommies. By the look on their faces it looks like I said the most offensive thing possible. They usually say "Best price!" Oh really..

In english, best price means cheapest in my language.

Another store basically blocked me straight away when I asked "Eigo?" (english), and they flatly said no. This was going to be a struggle.

Yodobashi were the most inclined to discount, but they are usually marked up an extra 10,000 yen anyway to compensate for any perceived sale price.


Feeling a bit down in the dumps, I walked into the UFO catcher closest to Macca's in Shinjuku East and tried my hand at another Gundam figure. It looked pretty easy and 100 yen a pop.

For 300 yen I got it, but I foolishly tried for his "brother" and lost 200 yen in the process. Dammit!

Seeing it was still fairly early, I made the decision to go to Akihabara to get the lens. At the moment there is a Nikon 5000 yen cashback on the one I want.

The cheapest price I could find online was 69,000 yen, but on the warranty card it had the date already filled in from the 17th of February, meaning the cashback wouldn't be valid on my purchase.

So, after trying Yodobashi here as well, I settled on Akihabara Outlet Plaza which had the next best price for 71,500 yen.

A bit more than I hoped for, but with the Nikon offer it's actually quite a bit less than what a lot of stores are selling this lens secondhand. Either way it's still much cheaper than current prices in Australia.

I did a few test shots. The focus hunts around a bit. I'm hoping it's just because of the low light in the apartment, or I'm trying to focus on something too close.

It's great that I can finally use auto focus, but after the cool fisheye perspectives, I feel like this one is a tad bit unsatisfying. I'll give my full judgement once I've had a good go at using it. It makes the camera quite a bit heavier too.

I didn't spend much time looking in Akihabara. The mission was just for the lens. I made my way back home straight after I got it. I was so tired.

All the pics on this post are using the new lens by the way. Hopefully I'll have something a bit more interesting to take pictures of.