I've been a bit lax lately writing posts so first, a quick recap for the highlights of my week:

On Monday I decided to go to Hachioji once more to check out the "Off" stores for some bargains. I noticed Astro Wars was still there and discounted to around 2,000 yen. Still didn't make me want it more. That thing is more than thirty years old!

My real reason for going there was to find some bathroom scales.

For two reasons - I keep getting asked if I am losing more weight more than too many times lately AND, there's a strict 20kg baggage restriction with Jetstar that I want to keep to if possible for my flight home.

I didn't find any there but when I got to Tachikawa, I still had enough time to walk to the Treasure Factory and found a Winnie the Pooh one for 800 yen and an electronic one for 2,000 yen. I held off thinking I should look around a bit before plonking down my yen.

Later on I thought it wasn't too bad, and checking Bic Camera, electronic ones go for between 4,000-5,000 yen for the cheapest. I didn't have enough time to go back so I thought if it was still there I'd go back the following week.

On Tuesday, station beers was put on hold for a night out at an izakaya with a bunch of people from the Yokohama school. The only negative thing is no matter what time you get there, the bill is split evenly. So, that was coughing up 4,000 yen. Ouch.

A particular highlight was the train home watching a guy, who not long before I got on had done a spectacular vomit all over the floor near the doors. It was a purplish colour with chunks and liquid streaming to quite a large area of the train. Impressive!

I had my SLR camera with me and I SO wanted to capture this moment. It was priceless. Too many people may have thought that a tad insensitive, so I didn't.

The rest of the week has been arts and crafts, doing Christmas lessons with a surprising amount of success. Lots of candy and chocolate. Bonus!

Tonight I have finalised all my plans for Christmas presents, so it's one less thing I have to worry about. Have you been good? Santa MAY come pay you a visit this year. Maybe.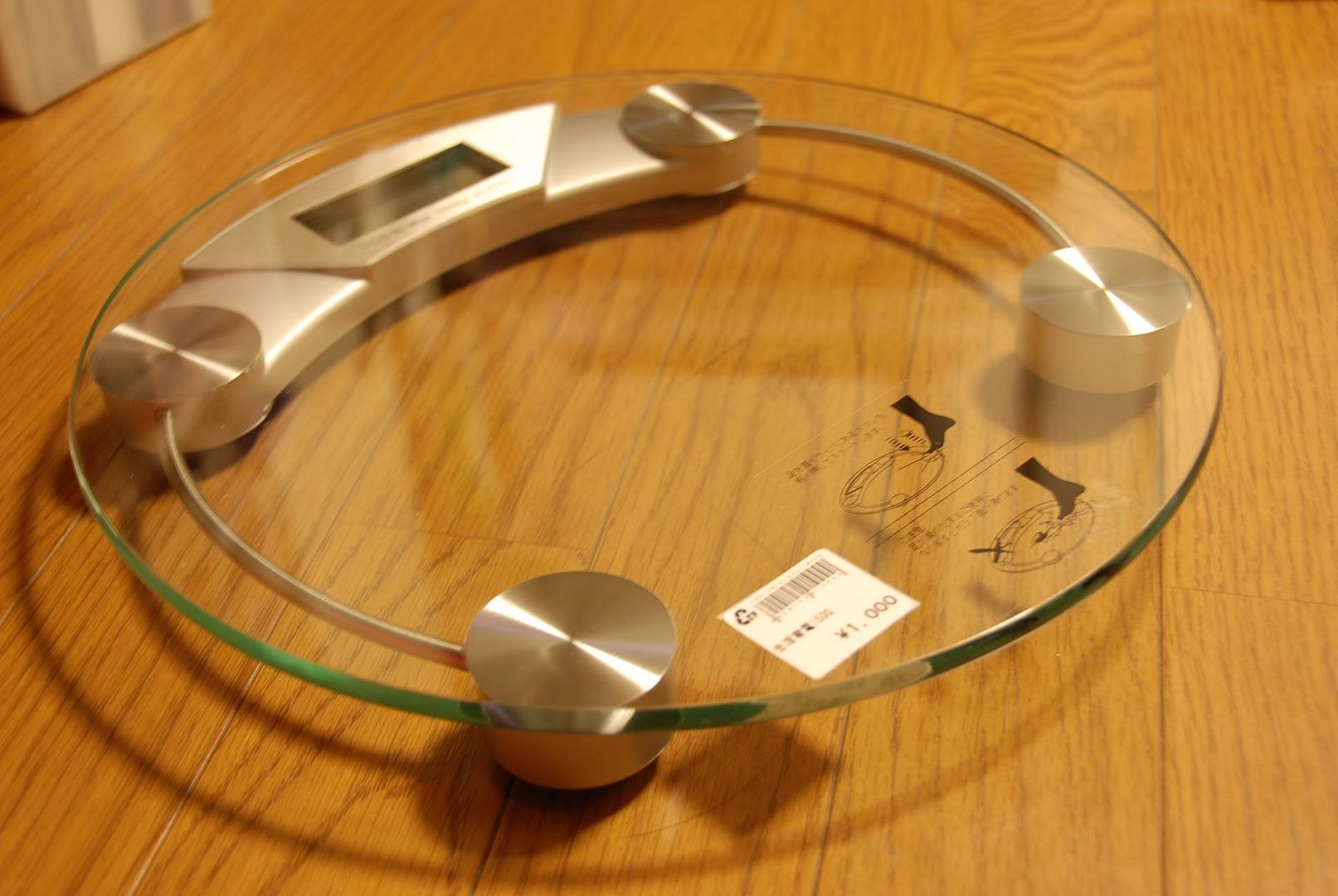 I DID get an electronic scales that looks just like the one I passed up in Tachikawa at Eda's Treasure Factory for 1,000 yen!

Super fantabulous!

There was also a really old looking, "analog" bathroom scales for 300 yen. Although it worked fine, it looked like junk. This one was covered in styrofoam and plastic, so it looked pretty much as new. It still had a battery in it, so I could see that it worked. There was a lbs/kg switch that looked like it was missing, but considering it showed kg's, that's all I need.

I really like this shop. There was a whole lot of stuff I'd really like to buy, but my lack of impulse stopped that pretty quick.


In Shibuya tonight we were really hungry, so by chance we stumbled upon the interestingly named Mo Mo Paradise, a shabu shabu/sukiyaki chain.


We had to wait around an hour because the place was busy.

To kill some time we played "Nintendo" strength test on my new scales. I also took the opportunity for a few pictures around the waiting area.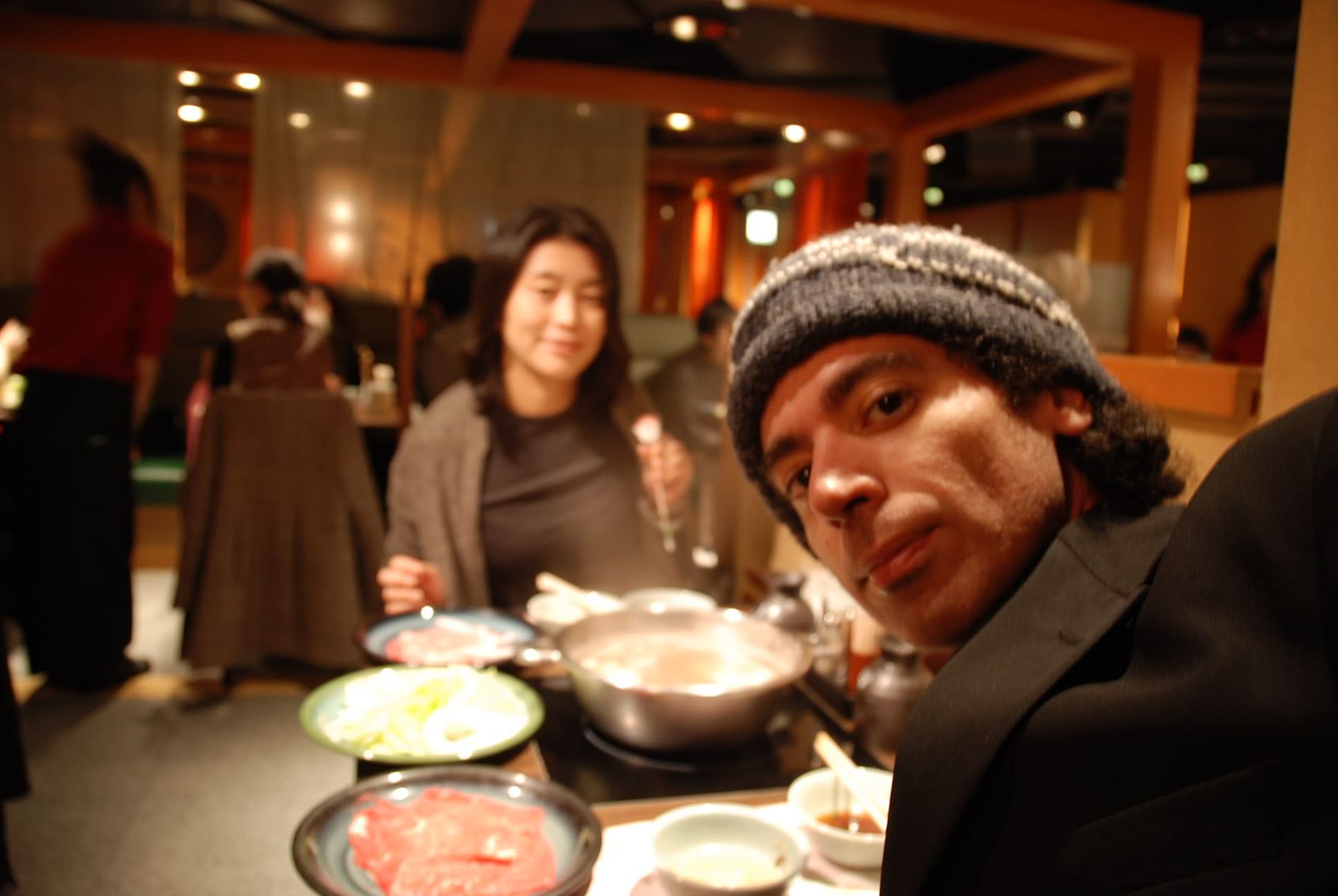 After the disappointment of the local shabu-shabu in Yotsuya, I was quite pleased with this place.

It was 1890 yen each all-you-can-eat for 90 minutes. As soon as we ordered another plate, it was there in no time. Fantastic.

I have to say I liked the beef more than the pork. The pork was a little fatty, but the beef wasn't, and was sliced in really big pieces. We got stuffed with meat well before ninety minutes was up. It's not only in Shibuya, so I definitely recommend this place for a decent cheap feed of MEAT, and lots of it.

I'll be back.


Finally I just want to mention I got a merlion biscuit today.

As you can see it's a cross between a mermaid and a lion. It's a symbol of Singapore.

Personally I prefer a liger, the cross between a lion and a tiger and "bred for it's skills in magic" (see Napoleon Dynamite, just do it).

Over and Out.