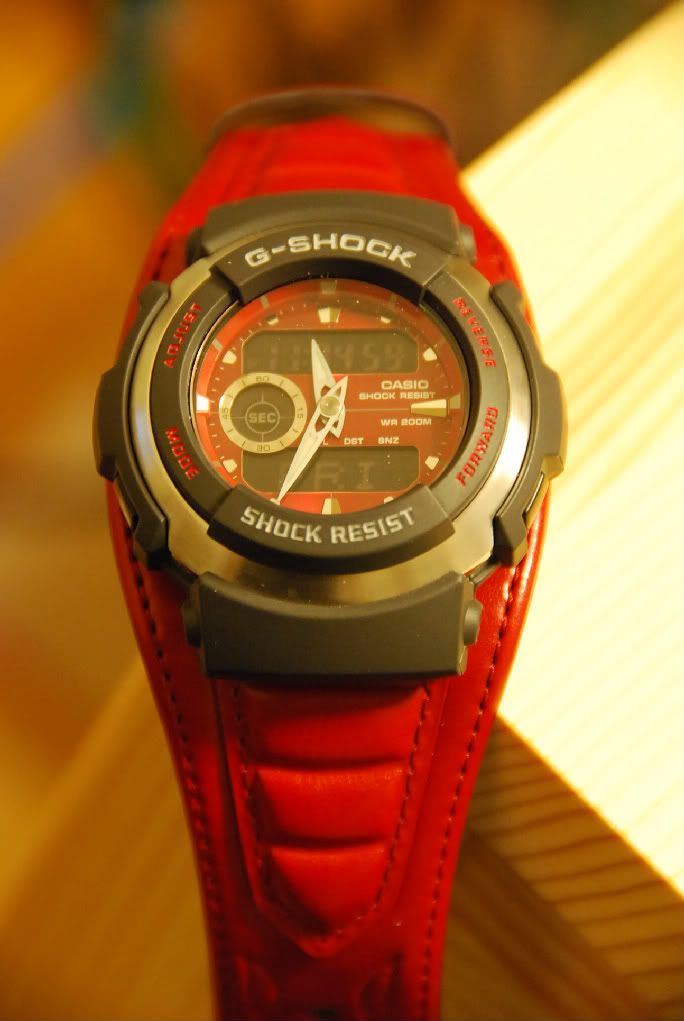 I need a hobby.

I didn't mean to, but I got ANOTHER watch today. Watch number five, come on down!

Today's "contestant" is a Casio G-Shock G-300L-4AVDR.

I noticed this one many months ago online, but at the shops around Tokyo this particular model was nowhere to be found. I think it's some kind of limited edition.

I was in Kawasaki a little earlier than usual. I was thinking of hitting up the UFJ bank to exchange some pieces of yen into quickly depreciating Aussie dollars. I had about 30 minutes and four kids classes ahead of me.

I knew that it wouldn't be a simple case of "telegraphic transfer", "money", "Osturaria?", so I saved myself a potential headache I really didn't want to have today, and had a bit of a look around Kawasaki instead.

One place that I really like is the B-Select store, which is yet another knock-off of the "offs", which isn't really an "off", if you know what I mean. (??)

It's mostly a clothing recycle store, but it has sports gear, glasses and watches as well for some pretty good prices.

In the past I missed out on a nice and cheap pair of Oakleys, and a watch that I kind of liked, to find they were gone the following week. This was not going to happen today.

By the time I spotted it, I didn't have much time to decide. The sticker price said 4,500 yen, but I was pleasantly surprised to be told all the watches were 10% off so, it was actually 4,050 yen, just for me!

Trying it there in the shop with my suit on, it wasn't much of a match, but coming home and trying it with a casual tee, it's bright red leather band looks pretty good to me. Like I said in the past, red goes faster. Ne!

Unfortunately, it didn't come with an instruction manual, not that it would've been any help in Japanese anyway. I managed to find it on the Casio site here.

On the site it unhelpfully asks for the module number (3750), instead of the model. This is the same for the whole G-300 series. I hope this helps other people too.

So now THIS will now go onto the "pile"...