Nothing special planned for today, but we did a big trip around the Harajuku and Shibuya areas without using the trains.

As you might remember, Yoyogi Park is next to Harajuku. We saw the usual freaks hanging around the station there, including the "Bono" wannabe, "free hugs" people, and an old man dressed up strangely with a "second" head hat.

The things lonely people do to get some, or any kind of attention.


Yoyogi Park always has a great atmosphere - A few DIY rocks bands busk on the footpath, and people having picnics.

The autumn leaves look quite good here too with the pretty colours.

One thing that really stood out in the park was watching the autumn leaves, in this video flying seemingly of their own accord. It looks like the hot air from the subway grill makes for a spectacular sight.



From Yoyogi Park we went on our way to Shibuya stopping at Levain, the french bakery to get pumpkin bread and some yummy raisin scones that we ate there before moving on.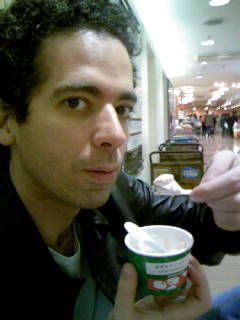 We had a wander around Shibuya. For some reason we had a craving for Azuki icecream so we bought a Haagan Daaz Azuki Milk and Azuki Kinokuniya supermarket icecream. Strange, for a cold autumn day? maybe..

Walking around we found a funny t-shirt place called Hen-T. Some really cool, strange ideas here. Gf liked the "Ping Pong dash" one. Basically it means ringing ("Pin Pon") a stranger's door bell, then running off. Ah, those crazy japanese huh?

Another strange thing we found in a store was a JR Yamanote and Chuo line clock and that -
"JR East has begun selling a clock that plays those melodies you hear at various stations. Each station has its own melody which gets hammered into the subconscious of commuters."

If anyone's interested just what the train melodies on the Yamanote sound like click here. In particular find "Takadanobaba", the music will sound familiar. Apparently it is the home place of it's creator. Cool huh?

We made our way back to Yotsuya slowly but surely. I'm glad I wasn't by myself. Until I get some kind of GPS, my sense of direction isn't going to get any better around here.