I had to bring two CDs back to the library but we didn't really plan to do anything today.

The first mistake was going into Shinjuku. There were so many people wandering around that I managed to lose the gf quite easily.

We thought to go to Krispy Kreme, but even from a distance we could see the line extend along the bridge to Takashimaya Square.

I thought it'd be good for us to go to Levain, the french bakery we went to before in December. We got some nice home style apple pie and pretzels to eat in Yoyogi Park.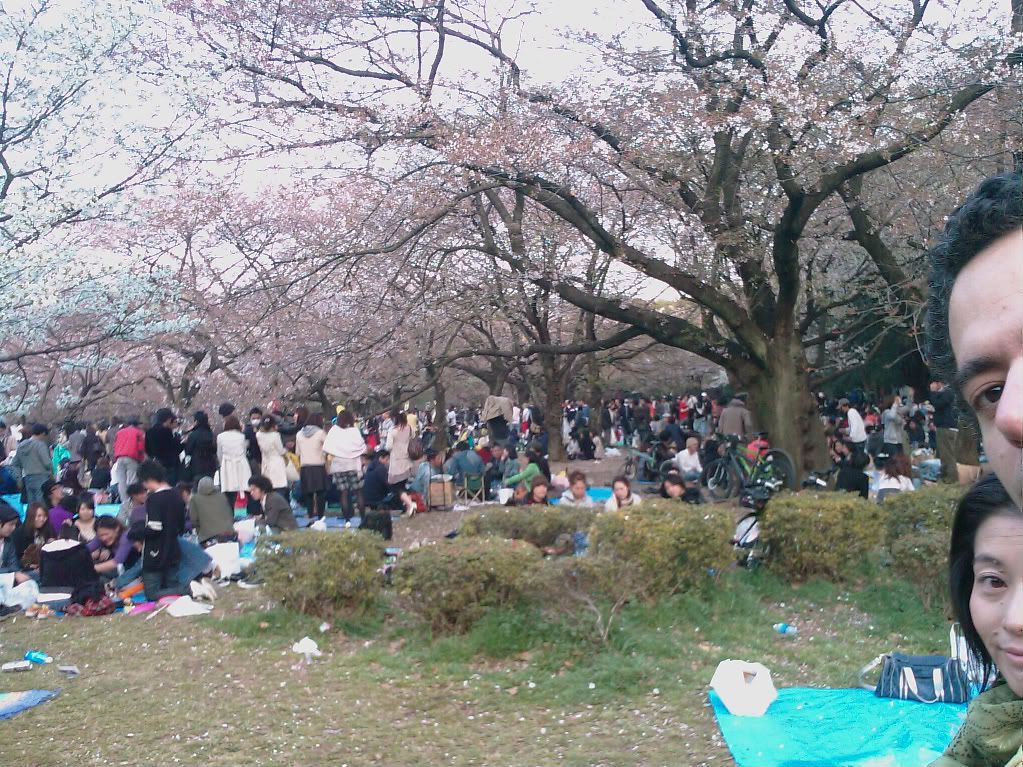 The cherry blossoms are slowly fading but the enthusiasm for hanami parties are still going strong by the amount of people packed there.

Along with people drinking and playing various instruments, there were big sound systems pumping out headache-inducing techno.

In some places it gave me an impression of a little Roppongi. Skanky.

Sometime soon I'll bring my guitar to have a play near the lake here. It'd be fun I think. I'd really like to jam with someone who can sing harmonies like this.

If anyone in Tokyo can do this, get in touch with me. Let's rock!

When the sun was going down and it was getting a bit cold we made our way back home.

Okonomiyaki was on my mind but the restaurant we thought of was closed, so I suggested pizza instead.

We went to Pizza Salvatore.

Not exactly the cheapest pizza chain, but the pizzas taste pretty good. We bought two small pizzas, a gorgonzola and prosciutto, and an "Alla Diavola", chicken, salami and peppers for 2900 yen.

I like the later one better. The fiery peppers gave it a nice kick.

Gazing through the menu I couldn't help but notice some interesting english.

I don't know about you, but small or otherwise I don't consider sausages "cute".


"It's Tipical"? Maybe they wanted to say authentic?

We walked around a bit after eating and found some tennis courts that you can rent close to home. You can play two hours in the daytime for 3000 yen. I feel like trying it sometime. It's been years and it could be fun.