I hadn't been here before so next on the itiniery would be Roppongi.

To tell you the truth, the place at least during the day doesn't leave me inspired much. Compared to Shibuya, there is no comparison. Everything Shibuya is, Roppongi isn't. At least this is my impression in daytime.

Again we got our free iced coffees from Macca's. Gotta love free drink vouchers!

I couldn't resist the Don Quixote store. In there we found "rodeo" exercise machines that were actually turned on. More fool you, you Don Quixote staff!

No, I couldn't resist the temptation and jumped on this bucking bronco of technology. The gf has a funny video on her mobile. When I finally work out how to get it off her phone I will post it!

Two other teenage japanese girls saw me on it and must've thought it would be great to go for a ride as well. You go girls!

From there, we made our way to Roppongi Hills. The weather was not looking so good, but all we had was gf's summer cloth umbrella that I was carrying all day in my pocket. Not so good for rain though.


Roppongi Hills is the (slightly) more upmarket version of Roppongi, meaning there are more expensive shops here. We went to Midtown and looked at clothes that even at half price discount was sure to be a markup for 500%.

Here, there is a nice food store with a lot of international food. We found all the cheeses I have been craving from back home , but they were too expensive to buy here.

On the other hand, there are a LOT of shops here giving food samples. SO, at every opportunity I tasted the food to sample with the standard reply of, "We'll come back and get some later". *evil laugh*

On arriving back to Yotsuya we were still both hungry, so we went to Pizza Salvatore for what was originally one Capricciosa pizza, becoming another with salami and eggplant. Both were tasty and not too bad for japanese-italian pizzas.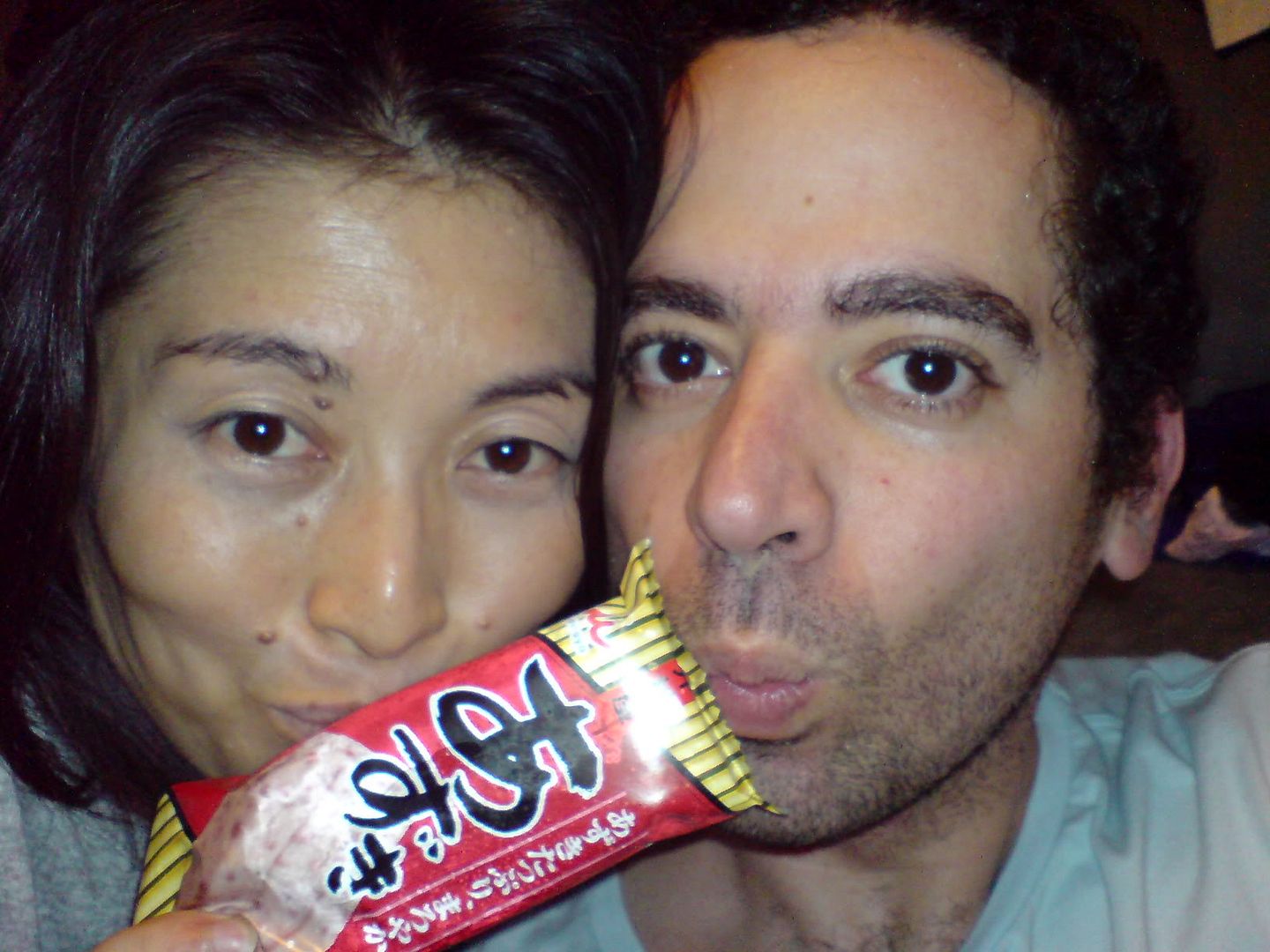 I have to tell you about a new treat I have discovered in Japan.

It's called Azuki or red bean. They have them in jelly, icecream and as filling for doughnuts.

It's strange a vegetable as a sweet, but if anyone can do it, the japanese can. Here, Yoko and I are showing our love for this Azuki iceblock. Mmm..

Before going to bed I watched Astroboy on Youtube. Gf got a little excited when I found the japanese version intro music to both Astroboy and Yamato (Starblazers in English). She knows all the words. That is strangely cool in a weird way.